Structural health monitoring
Dewesoft data acquisition systems are used in structural health and seismic bridge monitoring projects ranging from structural mechanics to continuous monitoring of large, complex bridge structures.
The monitoring systems provide distributed, high-channel-count and remote monitoring for highway overpasses, roads, buildings, and bridges. We provide a total solution from DAQ systems and data loggers to sensors and monitoring software.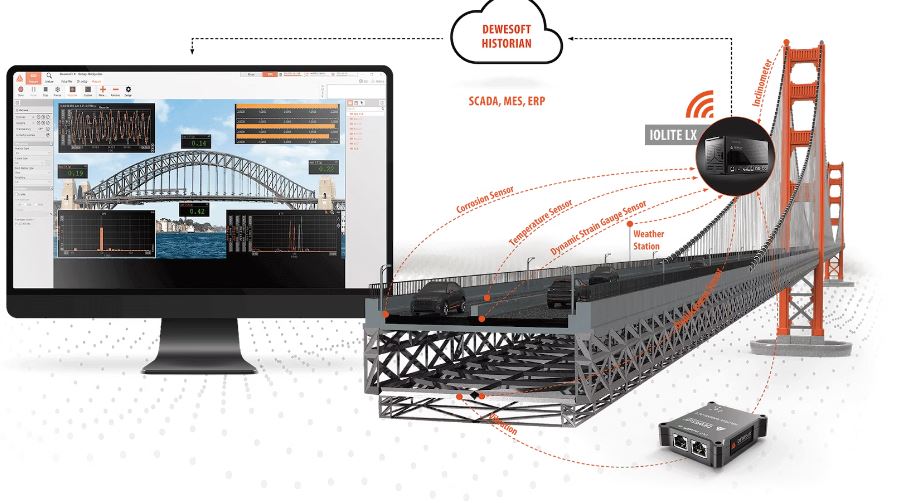 Total Turn-key Solution: Dewesoft bridge monitoring solution offers complete and highly accurate data acquisition systems, data loggers (including wireless dataloggers), and the possibility to connect all necessary sensors that are used info structural health monitoring projects.
Totally Distributed System: Dewesoft DAQ devices are designed to be distributed under any condition. EtherCAT technology allows devices to be placed near the sensors and connected with a single cable for power, data, and synchronization. The cable can span up to 100m between DAQ nodes or virtually unlimited using EtherCAT to fiber optic converters.
Any Sensor: Input amplifiers offer support for any strain gauge sensor, low-frequency accelerometer sensors for seismic activity monitoring, temperature, and weather factors.
Perfectly Synchronized: All data channels are synchronized well below microsecond accuracy, required for deep structural analysis.
Amazing Dynamic Range: With dynamic ranges up to 160dB, our customers are claiming they can see fish hitting the structure.
Wide Variety of Configuration: From extremely rugged IP67 units with very high dynamic range to cost-effective solutions offer a tailored approach for virtually any structure with the possibility to monitor and analyze thousands of data points.
Powerful Software: DewesoftX software offers real-time diagnosis, pre-processing, and data reduction with powerful math. A wide variety of storage options are possible with powerful visualization choices.
Open Interfaces: Using DewesoftX, data is available in a wide variety of formats, from exported data to live OPC UA interface or modern cloud data services.
Operational Modal Analysis (OMA): Use recorded time data to estimate modal models. With OMA the dynamics of the structural vibrations can be determined directly from the sensor input data via the Dewesoft ARTeMIS OMA software.
Remote Operation: The entire system can be remotely operated offering triggered storing, alarms, and other monitoring features with capabilities to store data locally or at distant remote locations.
Bridge Monitoring Instrumentation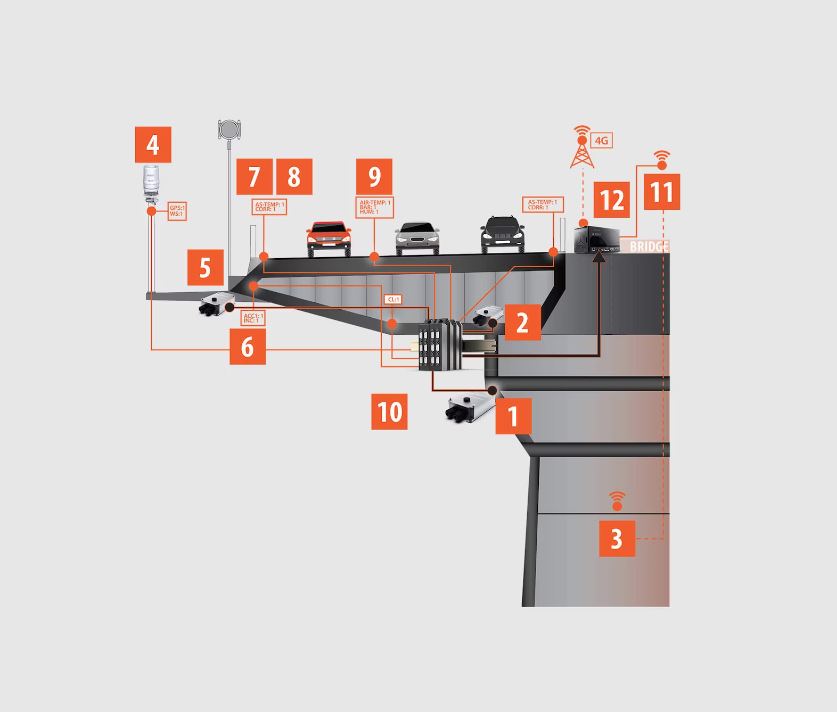 Sensors:
1 - Acceleration and inclination measurement: Dewesoft IOLITEdiw-3xMEMS-ACC-INC a Triaxial MEMS accelerometer and static inclinometer with EtherCAT interface, 8 g measurement range.
2 - Displacement measurement: Dewesoft IOLITEdiw-3xMEMS-ACC a Triaxial MEMS accelerometer that precisely measures displacement by integrating acceleration twice.
3 - Static Strain measurement: Embedment vibrating wire strain gauge designed to be embedded into concrete structures for monitoring static strain of concrete.
4 - All in one weather station: The weather station provides a measurement of relative humidity, temperature, wind speed & direction, brightness, and twilight.
5 - Dynamic strain gauge: Bolt-on dynamic strain gauge designed to be mounted on the structure.
6 - IOLITEdiw-3xMEMS-ACC: Triaxial MEMS accelerometer with EtherCAT interface and 8 g measurement range.
7 - Asphalt temperature measurement
8 - Corrosion sensor
0 - Air temperature and humidity measurement
DAQ devices:
10 - IOLITEd - From single-channel to multi-channel distributed data acquisition devices capable to read data from accelerometers, dynamic strain gauges, thermocouples, RTDs, weather stations, potentiometers, etc.
11 - VW Wireless data logger - For reading the data from vibrating wire sensors.
12 - IOLITE LX - An embedded data acquisition system and data logger all in one.

System Architecture
Dewesoft Data Acquisition systems with their wide range of analog and digital inputs, offer support for almost any kind of 3rd party sensor used in Structural Health Monitoring.
All EtherCAT compatible devices (IOLITE, IOLITEd, KRYPTON) can be connected to the same network giving the possibility to build a virtually unlimited channel chain by using a single cable delivering power, synchronization, and data. The whole EtherCAT chain is synchronized to 1us no matter the distance. Node-node distances can be up to 100m.
All the raw data from data acquisition devices are collected and processed by measurement units running the DewesoftX data acquisition software. Processed data is sent over the TCP/IP network to the factory or cloud server. Data can be accessed and viewed on the client PC or stored in the time series database (Historian) and served to SCADA systems or Cloud Software using standard interfaces such as OPC/UA or XCP to truly support Industry 4.0 applications.
Tìm hiểu thêm thông tin tại: Structural Health Monitoring of Bridges